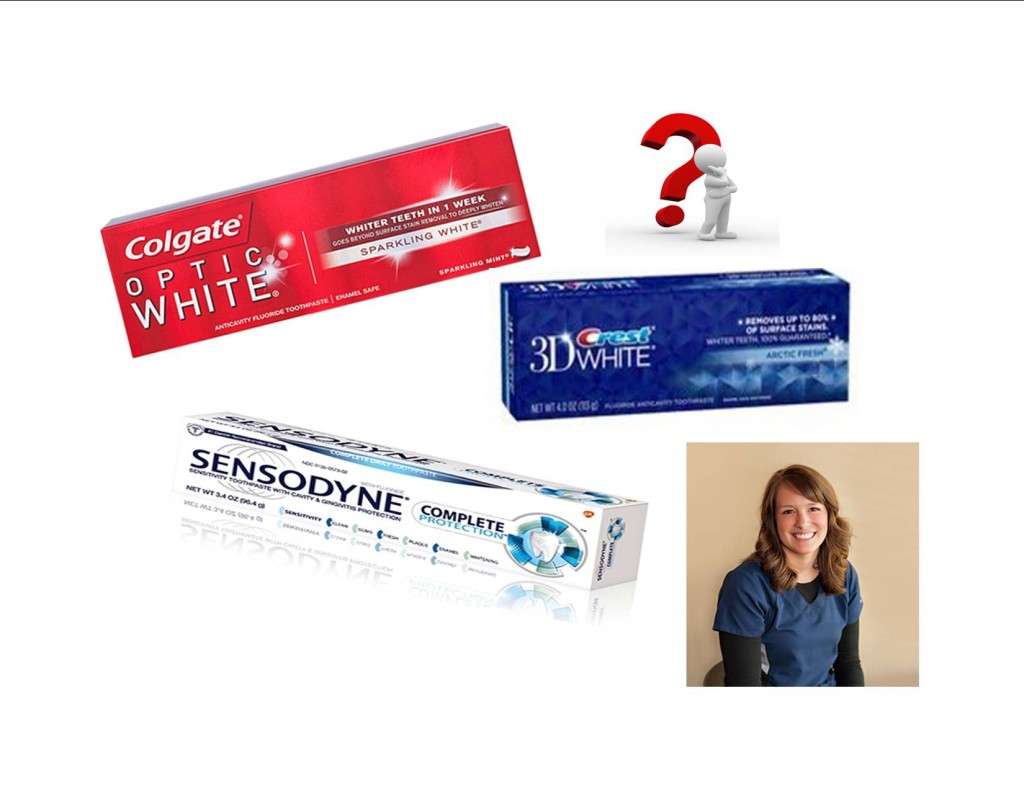 Teeth whitening is one of the most talked about topics in the dental office. These days, everyone wants to have that celebrity white smile. Luckily, thanks to science and product development, we are able to achieve that desired smile. You don't have to spend a lot of money on whitening treatments, there are many products that are over the counter that can be used to brighten and whiten your smile.Today, we will focus on whitening toothpaste.
When you walk down the dental aisle of your local convenience store or supermarket, you'll no doubt notice that there are hundreds of different types and brands of toothpaste out there. The question we all ask ourselves is, "Which one is going to meet my desired outcome?"  We are only going to talk about three different name brand toothpastes that I have personally tried and are reputable companies.The three brands are Crest 3D White, Colgate Optic White, and Sensodyne Complete Protection.
Obviously, there are many more whitening toothpastes out there, but these three toothpastes are likely already familiar to you as a patient and consumer. These toothpastes will brighten your smile and reduce stains on the enamel of your teeth.  If your teeth are more prone to stains, a whitening toothpaste is great because it will help to minimize your chance of getting stains between your dental cleanings. Unfortunately, whitening toothpaste can only do so much. While it will help remove stains and give the appearance of a brighter smile, it does not whiten the shade of your enamel like a gel system such as Zoom! or whitening strips would.
That said, there is a whitening toothpaste for every mouth. For those who have sensitivity, often the thought is "I can't use a whitening toothpaste because whitening causes more sensitivity." This is a common misconception. If you primarily use toothpaste that's made for sensitive teeth, Sensodyne makes a great toothpaste, Sensodyne Complete Protection. It has a great flavor and is designed to help with tooth sensitivity. I personally prefer this product over the others because it has everything you could want in a toothpaste. It takes care of gum health, tartar control, sensitivity, and cavity prevention, all while brightening your smile! What more could you want? If you don't need a sensitivity toothpaste, the other two brands, Crest 3D White and  Colgate Optic White, are great options as well. They both brighten your smile, aid in cavity prevention, and help reduce tartar build up. If I had to pick between the two, I would pick the Crest 3D white due to its great flavor. I found that the flavor of the Colgate Optic White had a strong, bitter taste that was not for me.
The next time you want to improve your smile by using a whitening toothpaste, I hope my experience will help you feel well informed to make the right decision.
Danelle Sorgatz, RDH
Grimley Family Dental