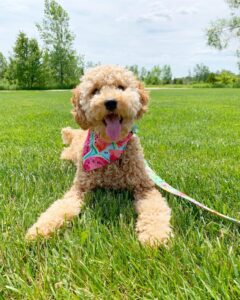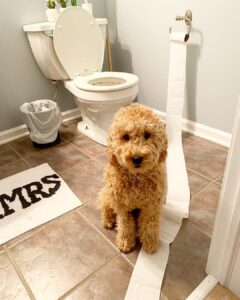 At Grimley Family Dental, we understand the importance of man's best friend, that's why we're celebrating National Dog Day! This year, we are celebrating the lovely Charlie Faye who has been part of Katherine's family for 9 months (Charlie Faye is only 10 months old!). Katherine and her husband met in Fayetteville, Arkansas so they loved the name Faye, and Katherine has always liked Charlie for a girl, so it was decided-- Charlie Faye would be the name! For National Dog Day Katherine plans to spoil Charlie Faye with a puppy cone at Andy's Frozen Custard and a trip to the dog park.
Katherine's puppy is like her baby and she loves taking Charlie Faye on walks during the day, playing a game of fetch, and cuddling up at night to watch a movie (yes, Charlie Faye does cuddle!). One of Katherine's favorite memories was when Charlie Faye learned how to open the bedroom and bathroom doors at home and she pulled the toilet paper from the bathroom to the living room and didn't even shred it. She was so excited to show Katherine when she got home.
Katherine and her husband honestly couldn't love their pup anymore. She is THE best!
Do you have a dog you adore just as much as Katherine adores Charlie Faye? Tell us about your adorable pooch the next time you're in our office. Enjoy the rest of your summer!