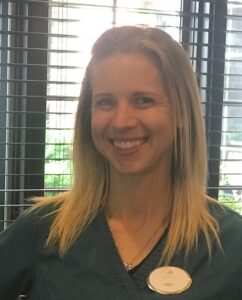 Grimley Family Dental's wonderful Dental Assistant Amy Davidson will be celebrating 6 amazing years with us today, October 21st. As a Dental Assistant Amy's day to day generally looks like this: assisting Dr. Grimley in all dental procedures, ordering supplies, fabricate custom appliances, patient education, assisting hygienists when needed, teeth whitening, and infection control.
Amy loves and appreciates Dr. Grimley's outstanding passion for dentistry and how every patient's unique needs are met with very specific treatment.  Dr. Grimley also has strong family values, morals, and commitment to his practice. Each day Amy looks forward to coming into work in an environment where everyone has the same goals and desire for professionalism.
In her personal time, Amy loves spending time with her family. Her hobbies include disc golf, camping, and running. Amy and her children love going to buffets because they can get Mexican, Chinese, or American food and there is no fighting because everyone gets what they want!